Like many couples, Ellen Brooks Pollock and Leon Danon, have had to make it through the pandemic juggling lockdowns, child care and work.  But unlike many of us, they have also both been working together on the mathematical front line of the COVID-19 pandemic.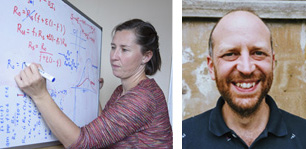 Ellen and Leon are both both from the University of Bristol. The are members of the JUNIPER consortium of modelling groups from across the UK whose research and insights feed into the Scientific Pandemic Influenza Modelling group (otherwise known as SPI-M) and SAGE, the Scientific Advisory Group for Emergencies, both of which advise the UK government on the scientific aspects of the pandemic.
If you or someone you loved found yourself living alone during the various lockdowns you benefitted directly from Ellen and Leon's work: as we find out in the podcast, it was their work on household bubbling which showed that these support bubbles were safe.
We spoke to Ellen and Leon in July 2021 for our special podcast series On the mathematical front line.  The series features epidemiologists whose efforts have been crucial in the fight against the pandemic. They are the people who make sense of the data to estimate things like the R number, and who make the mathematical models that inform (and sometimes do not inform) government policy.