To celebrate the Commonwealth Games happening this week in the UK we are visiting one of the venues, the velodrome in the Lee Valley VeloPark in London.  The velodrome, with its striking curved shape, was built for the London 2012 Olympics.  In the run up to the 2012 Olympics, we talked to structural engineers Andrew Weir and Pete Winslow from Expedition Engineering, who were part of the design team for the velodrome, about how mathematics helped create its iconic shape.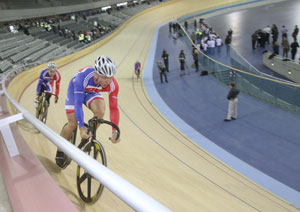 Sir Chris Hoy leads the GB Cycling Team during the official opening of the Velodrome (Photograph by David Poultney)
We hope you enjoy revisiting this conversation, and you can find out more in this accompanying article. Good luck to all the athletes completing in the 2022 Commonwealth Games!